Edinburgh
/
Attractions
/
Calton Hill
Calton Hill Edinburgh
View from the hill in Edinburgh with the National Monument

All info about visiting Calton Hill with beautiful views of Edinburgh city and with the unfinished national monument..
Info Calton Hill Edinburgh

Accessibility
It's easy to get to Calton Hill. You can reach the top of the hill in about five minutes on foot via a staircase on Regent Road (south side) or via the Royal Terrace (north side).
Calton Hill & Monuments
On the east side of New Town in Edinburgh Scotland, is a hundred-meter-high volcanic hill: Calton Hill. From this hill you have a beautiful view of the city Edinburgh and the rest of the Edinburgh surroundings, but Calton Hill is not only known for its beautiful panorama. On Calton Hill you will find a number of very famous Scottish monuments made in a classical style, which is why the hill is also called the Athens of the north.
Edinburgh's Parthenon
The most famous monument is the National Monument, which looks like a Greek temple. This monument was never completed and is a production of the architects Charles Robert Cockerell and William Henry Playfair. The national monument was built between 1822 and 1829 and was supposed to make people think of the Parthenon of Athens. The monument on Calton Hill commemorates the victims of the Napoleonic Wars, which took place between 1803 and 1815. Construction of the National Monument was halted in 1829 because further funds were lacking.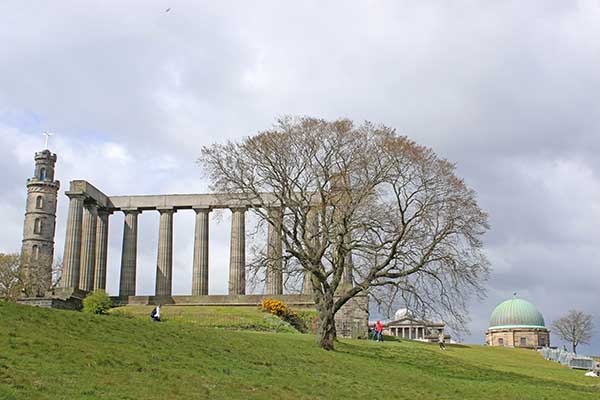 On the far left the Nelson Monument and next to it the national monument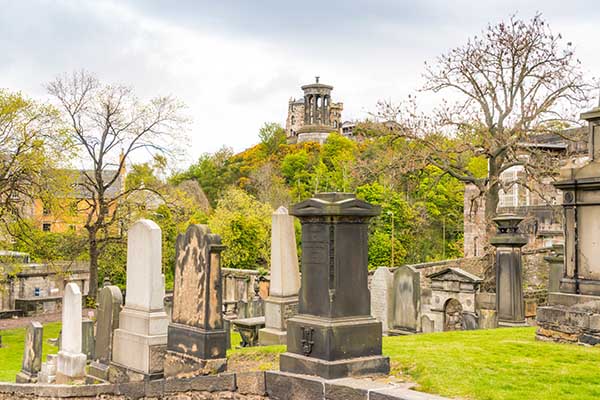 View of Calton Hill from the New Calton Cemetery
The Nelson Monument
This monument has been erected in honor of Admiral Horatio Nelson. Built between 1807 and 1815, this memorial commemorates Nelson's 1805 victory at the Battle of Trafalgar. The Nelson Monument has the shape of a telescope, because on top of the monument is a time ball that served for shipping and indicates a precise hour.
Dugald Stewart Monument
The iconic Dugald Stewart Monument was erected in honor of the Scottish writer and philosopher Dugald Stewart. This monument in the form of a round temple is also based on an Athenian counterpart, namely the Monument of Lysicrates, and was built in 1831 by the architect Playfair.
The new observatory
The tower in the city center, which now houses the Camera Obscura and World of Illusions, formerly housed the city observatory. However, this observatory moved to a new location in the nineteenth century, namely this location at the top of Calton Hill. The plot of land is enclosed by a boundary wall, on which a monument to John Playfair can be found.
---
Where is Calton Hill in Edinburgh?

Our readers say
4.8
(95.85%)
8
reviews
March 21, 2023
Martin

: "

We had a fantastic holiday in Scotland thanks to the good tips about activities, sightseeing and places to visit in Edinburgh.

"