Edinburgh
/
Attractions
/
Scott Monument
Scott Monument Edinburgh
Sir Walter Scott's striking monument in Edinburgh

The striking Scott Monument, located in Edinburgh's Princes Street Gardens, is a monument to Scottish writer Sir Walter Scott.
Info Scott Monument

Address
E. Princes St Gardens, Edinburgh EH2 2EJ
The founder of historical novels
Ivanhoe is one of the first historical novels in the world and laid the foundation for a whole new genre of literature. Ivanhoe was written by Scottish author Sir Walter Scott. Because of this important influence on Scottish (and worldwide) literature, a monument to the Scottish writer has been erected on the edge of the Princes Street Gardens immediately after his death in 1832: the Scott monument.
A visit to the monument
The Scott Monument in Edinburgh is a Victorian Gothic monument in the form of a tower, where Sir Walter Scott is depicted on the spire with his dog, resting after write a day. The monument is almost 62 meters high, making it the second largest monument honoring an author. The largest is in Havana. The tower can also be climbed via a narrow spiral staircase, with a viewing platform at various heights with views over the city Edinburgh.
In addition to the marble statue of Scott and his dog, 68 other statues have been incorporated into the monument, 64 of which can be seen from the ground. The images include other Scottish poets and writers.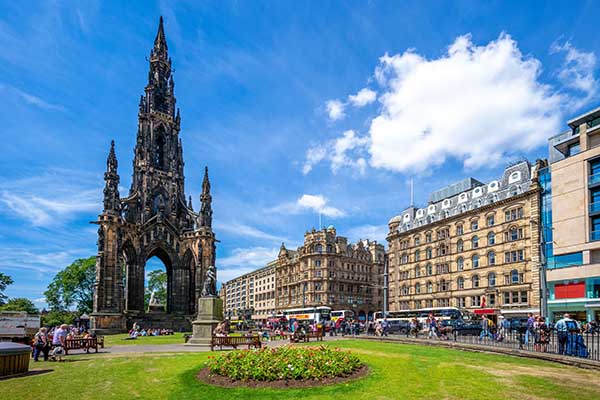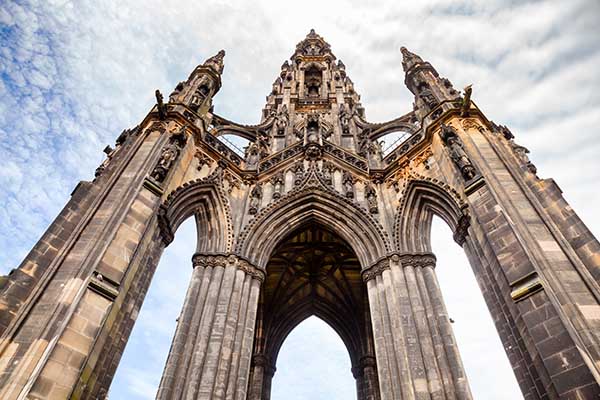 ---
Where is the monument in Edinburgh?

Our readers say
4.8
(95.85%)
8
reviews
March 21, 2023
Martin

: "

We had a fantastic holiday in Scotland thanks to the good tips about activities, sightseeing and places to visit in Edinburgh.

"