Edinburgh
/
Attractions
/
Dean Village
Dean Village & Water of Leith
Edinburgh's most picturesque area and the Leith Walkway

Picturesque Dean Village is a former Edinburgh village and an ideal place for a stroll along the Water of Leith.
Info Dean Village & Water of Leith Walkway

Address
Dean Path, Edinburgh EH4 3AY)
Accessibility
The former village is close to the New Town district, so you can reach Dean Village within a ten-minute walk from the main street Princes Street.
Tip
The 'Water of Leith Walkway' is a beautiful walk or cycle along the river of the same name. From Dean Village you can follow this path all the way to the harbor district of Leith (2.8 miles). The other way to Balerno (7.5 miles) is a route that is ideal for cycling (you can rent bicycles through this website). You will also find at this page a good map.
The picturesque Dean Village
In the Stockbridge district is Dean Village, which until the nineteenth century was an independent village in the shadow of Edinburgh. The village was also known as The Water of Leith Village, as it was situated directly on The Water of Leith, the main river that flows past Edinburgh to the seas via the Firth of Forth. Dean Village was best known for its many mills, which were used to grind grain. After the construction of the Dean Bridge and the modern mills in Leith, Dean Village fell into disrepair. In the 1970s, however, the village was renovated, with attention paid to the authentic elements.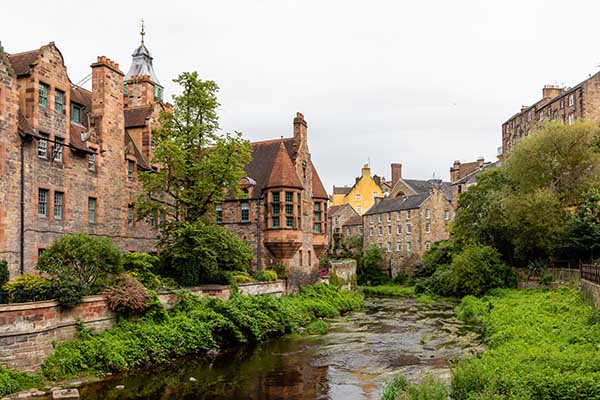 Houses along The Water of Leith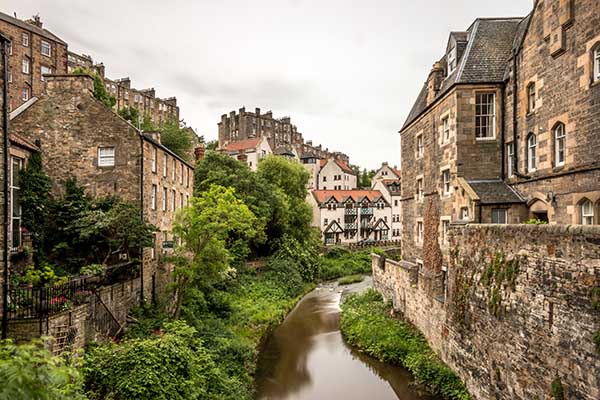 Viist the picturesque Dean Village
The Water of Leith
Dean Village is less than five minutes' walk from the busiest streets of Edinburgh, yet offers the tranquility of a picturesque village itself. Apart from the rushing of the strong currents of The Water of Leith and the chirping of birds, there is complete tranquility in the village. The historic houses contain beautiful details and are surrounded by greenery.
Going for a beautiful walk
After you have visited Dean Village, you can also combine your visit to the village with a walk along The Water of Leith. In 1981, an official walking and cycling route along the river was created by Tom Morgan. This walking route gives easy access to sights in Edinburgh itself, such as the Scottish National Gallery of Modern Art and the Dean Gallery. The total path starts at Balerno High School and runs through Dean Village and Edinburgh all the way to Leith, 19.6 kilometers away. You will also find a number of good places for fishing on this route and since the cleaning of the river water you have a chance of a good catch of trout, flat salmon and pike.
Video: Dean Village
Where is Dean Village in Edinburgh?

Our readers say
4.8
(95.85%)
8
reviews
November 21, 2022
Martin

: "

We had a fantastic holiday in Scotland thanks to the good tips about activities, sightseeing and places to visit in Edinburgh.

"