Edinburgh
/
Attractions
/
St. Giles Cathedral
St. Giles' Cathedral Edinburgh
The High Kirk Cathedral in Edinburgh's Old Town

Visit St Giles' Cathedral in Edinburgh? Info about the cathedral 'High Kirk' on the Royal Mile in the old town of Edinburgh.
Info Edinburgh Cathedral

Address
High St, Edinburgh EH1 1RE
Tickets
Admission is free
Hours

Monday to Saturday from 10:00 am - 2:00 pm
Zondags gesloten

Website
Official website
St. Giles' Cathedral of Edinburgh
On the Royal Mile in Old Town Edinburgh is a huge cathedral: the St. Giles Cathedral. This St. Giles Cathedral was erected in 1124 by order of King David I. The Edinburgh Cathedral takes its name from the canon Richard Giles. After the cathedral was attacked several times by the English, it has survived and can still be visited.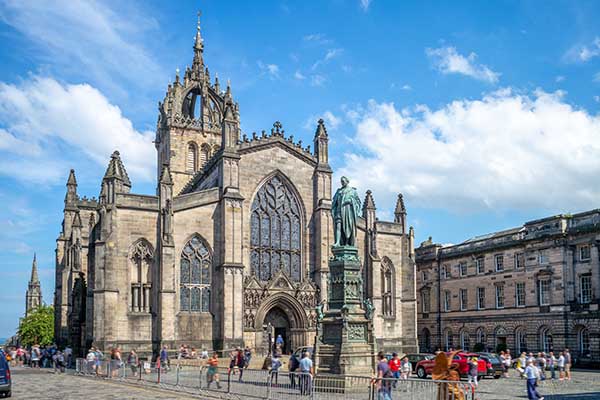 Edinburgh Cathedral on the Royal Mile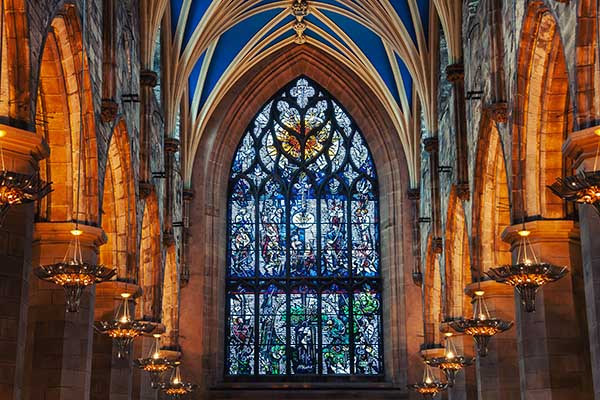 Interior of the St. Giles' Cathedral of Edinburgh
The must sees in St. Giles Cathedral
When you visit the cathedral on the Royal Mile there are a few things you shouldn't miss. For example, you have:
The Green Men
The Green Men are sculptures that were immensely popular in Western Europe in churches and on tombstones. The sculptures consisted of human heads or cat-like creatures, from which foliage grew from the mouth and ears. The Green Men were supposedly a symbol of paganism, where it was supposed to represent the never-ending cycle of nature. The Christians adopted this symbol to symbolize the resurrection of Christ. Most of the heads of St. Giles date from the fourteenth and sixteenth centuries.
The King's Pillar
Aan de eindzijde van de kathedraal van Edinburgh vind je St. Giles' befaamde King's Pillar, die vier middeleeuwse stenen schilden draagt. Deze schilden laten het wapensymbool zien van koning James II, zijn vrouw Mary en kroonprins James III. Het vierde schild gaf de Franse Fleur-de-lyls weer, het symbool van de hertog van Bourgondië die Mary had opgevoed aan zijn hof.
The Stained Glass
St. Giles is known for his large collection of stained glass windows. The oldest stained glass in Edinburgh dates from 1873. The most famous stained glass work is the Burne-Jones window and the large window on the west side honoring poet Robert Burns from 1985. Only fragments of older glassware survive, as the Reformers destroyed this due to the Saints displaying the glass.
John Knox Statue
John Knox was the head priest at the time of the Scottish Reformation. He remained minister of St. Giles until his death in 1672. During the nineteenth century a monument to Knox was wanted to be erected, after which it was decided in 1902 to erect a statue to him on the northwest wall of the Albania aisle. The famous Scottish sculptor Pittendrigh MacGillivray was commissioned. In 1906, the six foot tall bronze statue was displayed.
---
Where is the cathedral in Edinburgh?

Our readers say
4.8
(95.85%)
8
reviews
March 21, 2023
Martin

: "

We had a fantastic holiday in Scotland thanks to the good tips about activities, sightseeing and places to visit in Edinburgh.

"